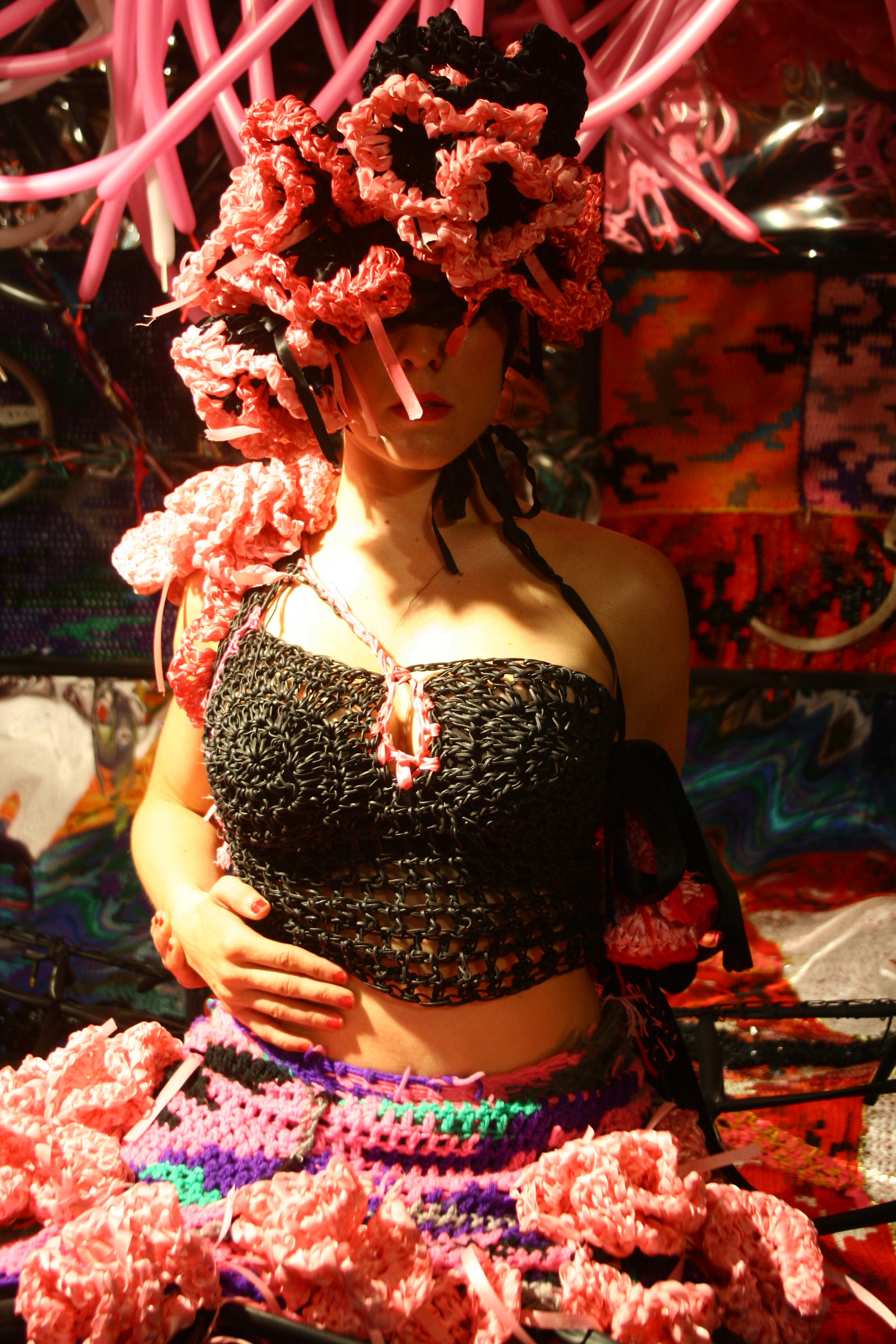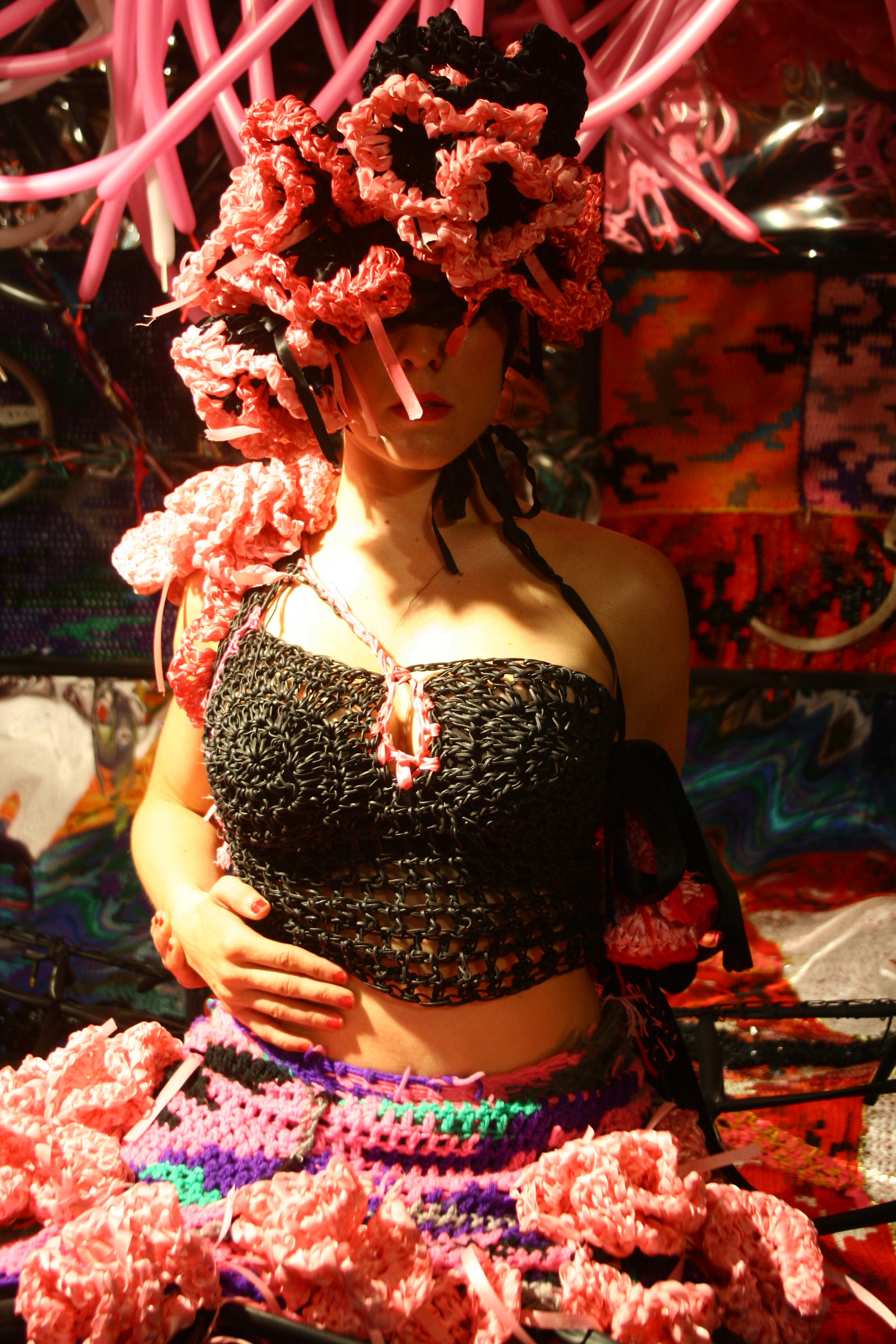 Covers (2009)
COVERS was a performance installation for the LAB, a storefront gallery, in Midtown Manhattan by Carrie Ahern and Olek. Three wearable sculptures, handmade by Olek of recycled synthetic materials using classic crochet techniques are entered, separated and transformed into evolving images by performers Carrie Ahern, Jillian Hollis and Agata Oleksiak. Midtown Manhattan surges at the force and speed of a high-octane New York sidewalk at rush hour. On the other side of the glass, the performers have the luxury of time. Carrie Ahern's moving images range from the highly sensual to the sacred to the violent. Olek's lush detail is evident in every corner of the space. Each of the 8 performances picked up where the last one left off, and was constantly being made and unmade. The culmination was a highly charged living performance sculpture and, through a window, a startling voyeuristic experience for the people on the street.
Press Quotes: Covers
"Between the buzz of fashion week in Bryant Park and the bustle of people rushing along Lexington Avenue at rush hour (the only time the women appear) the performance is a midtown island of calm, craft and counter-consumerism. Nothing here's for sale…This is an only-in-New York moment: Linger, and you'll be glad you did. Hurry past, and admit you've lost your sense of urban wonder."
-Margot Mifflin, Margotmifflin.com | Sept 2009
"Riveting and mysterious …These dancers, draped in crochet, are goddesses clothed in recycled fibers, seen by the public through a window reinforced with silver tape in the shape of oversized chain mail. … A moving and memorable experience."
-Dora Ohrenstein, Crochetinsider.com | Sept 2009
Photo: Olek
VIDEO Artist Interview: Carrie Ahern and Olek talk about "Covers"
Full Press: Covers
http://margotmifflin.com/tag/carrie-ahern/
Covers: Rush Hour Art, New York Style
By Dora Ohrenstein
crochetinsider.com |Sept 2009
At the busy corner of 47th Street and Lexington Avenue, during the evening rush hour, New Yorkers encountered "COVERS," a performance in the window of the LAB Gallery. A collaboration between choreographer Carrie Ahern and visual artist Olek, it was inspired by three book titles: "Woman, body, identity" "Ladies, Knights and Feminists" and "World without Women." According to the artists' blurb, the piece addresses how desires are projected onto the objects in store windows, and how those desires shift when the objects become live women, vulnerable to the audience's gaze.
What it was like was more riveting and mysterious. Live women in a store window immediately capture one's attention. These dancers, draped in crochet, are goddesses clothed in recycled fibers, seen by the public through a window reinforced with silver tape in the shape of oversized chain mail. The small store environment is deranged with color, panels of crochet camouflage and shiny silver on the walls, plastic tentacles dangling from the ceiling, strips of tubing stretched from floor to ceiling. On the floor sits a human figure enclosed, except for eyes and glasses, in a red body bag, crocheting non-stop. Nearby are a matching pink television, chair, and dog-like hulk. The dancers move slowly through the space, each entangled in her own web. In the front window a dancer in white has an immense piece of fabric on her head that suggests a wedding veil with a long trunk-like train. Her dress of burlap hangs loosely around her body as she crawls to the window's edge, genuflects very slowly to the outside crowd, and enacts a dream-like sequence that ends with her picking up a small iron covered in crochet. With it, she irons a piece of her dress, then her foot, then her cheek and finally her tongue. A second dancer in the back is a striking beauty showing skin, wearing a hot pink head dress and black bustier. Caught in a giant net, she writhes in very slow motion, finally emerging to grasp a small watering can. The woman in white is a domestic sufferer, the one in pink and black, punishable for her sins, no doubt. The performance evolves very slowly over the course of an hour. The audience is out on the street, where city life is going on in all its teeming chaos. Passersby stop for a moment, watch with curiosity, wonder aloud about what's going on, and move on. A few linger and snap photos. One fella asks if he can jump on the girl the window. Another asks for an interpretation, but when a few sentences in her cell phone rings, that's that. The artists remain in their separate world. A moving and memorable experience.